SERVICES KUWAIT
Kuwait 2018 | TELECOMS & IT | B2B
01/01/2018
With the boom in e-commerce and online transactions, solutions providers have to stay abreast of developments in security and best practices.
Automated Services Network Co. (eNet)
How has the company developed over time?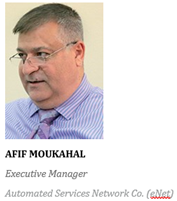 ABDULLA KHALED AL-AJMI KNET's objective is to create common services for banks, helping them to move customers away from cash. Initially, this involved switching to ATMs and point-of-sale (POS) systems. One of the major developments in Kuwait has been the rise of e-commerce and electronic payment. It started in 2004, with huge growth occurring over the last five years. E-commerce really grew with the use of handheld devices such as smartphones, and we are now looking at a market that is growing by more than 30% every year. On average, we do around 2.5 million online transactions per month, and it is the fastest-growing channel. This is a positive trend for small business, as it brings them an easy payment method.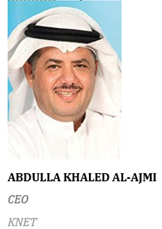 AFIF MOUKAHAL eNet is the first company in Kuwait to come to the forefront as a professional payment solutions provider. We provide a robust revenue collection system for public- and private-sector organizations. eNet has a dedicated customer base of more than 300,000 users in Kuwait across various channels. Our mobile applications have over 200,000 users, generating more than 24 million transactions per year. eNet has also extended its services to expatriates in Kuwait by integrating with major payment solution companies in other countries like Egypt and the Philippines. Our mission is to provide a wide variety of payments on our platforms so that customers from all walks of life can make their payments anytime, anywhere.
How do you ensure the security of your payment system in an environment of rapidly changing threats?
AKAA At the moment, more than 11,200 applications and websites in Kuwait have online payment tools, and we have about 4 million cardholders in the country. This poses a security challenge. To deal with the increasing e-commerce market, we introduced two-step authentication. We are constantly working to stay on top of new threats. A few years ago, POS networks were run through closed loops. They were easily secured. However, things are now open to the public. There are merchants outside of Kuwait engaged in transactions with Kuwaitis, and customers all around buying from Kuwaiti businesses. Threats in cybersecurity are huge; therefore, we must keep investing and be prepared for any sort of security threat.
AM As a payment solutions provider, security is our primary focus. We have implemented all the relevant security policies and procedures that the industry demands. We continue to upgrade our security systems and also do regular audits to ensure that best practices in the industry are followed. In addition, we have a dedicated business development team working closely with the technology team to ensure that all our solutions are aligned to the changing industry requirements. We have an open policy to gather feedback from our merchants and customers to ensure that all their changing requirements are heard, understood, and implemented. Our experience in this market has helped us forecast and be ready with the solutions to meet market demands.
What do the government's privatization efforts mean for KNET's operations?
AKAA In 2008, KNET signed an agreement on behalf of all banks with the Ministry of Finance and launched a new platform. Currently, 49 government institutions use this platform. In 2017, the government stopped the use of paper stamps in lieu of electronic stamps, using QR-based technology. We have collected about KWD70 million worth of e-stamps for the government so far. There are about 5,000 POS machines issuing and accepting these e-stamps, as well as 1,000 self-service kiosks that can issue these stamps for the government. With more business coming to Kuwait, there will be an increase in transactions. Through banks, KNET will be in touch with companies coming to Kuwait and describe and offer payment systems to them.
How do you assess your contribution to the country?
AM eNet has pioneered the payment solutions industry since 2006. Over these years, we have worked with several industries across Kuwait and have contributed to automating payment collection for several industries such as telecommunications, charity, events and training, education, rent payment collection, and invoices. Our major contribution has been in making payment solutions accessible with zero overheads for any type of business, which has helped several industries convert their manual collections into an electronic mode. There are several small and large-scale industries with a need for e-commerce platforms and payment solutions. Our systems provide a plug-and-play mode of payment solutions, helping any businesses to integrate with us and kick off their online business within no time.
https://www.thebusinessyear.com/kuwait-2018/services-kuwait/b2b